INTRODUCTION MEETING: February 23 • 2:30pM
We are returning to the Dominican Republic this summer to support Ina York and all our friends with The Cercadillo Project.
Trip dates are July 11-18, 2020.
The Cercadillo Project
The Cercadillo Project is transforming an impoverished community in the Dominican Republic through "hands-on ministry," education, vocational training, Bible studies, and Christian community. Ina York is the founder of the Cercadillo Project and lives permanently in the D.R. Gateway has a short-term mission trip to Cercadillo each year, assisting with construction projects, Vacation Bible School, and anything else Ina York needs as she serves the people in this community.
2020 Mission Trip
From July 11-18, we will be putting on a Vacation Bible School for the children in Cercadillo. We collaborate as a team for activities such as games, crafts, science projects, Bible stories, worship, teaching and other creative projects.
About the Village of Cercadillo
The village of Cercadillo is located just a short drive north of Santo Domingo. There you will find a beautiful little village which has somehow been missed by the opportunities and progress enjoyed by others. Although it is less than five miles from the busy community of Villa Mella, it seems cut-off from the rest of world due to poorly constructed roads and lack of access to public transportation.
An estimated 1,000 people live in the village, the majority of which are economically poor with no running water and very limited electricity. (But they are rich in many important ways!) Visitors often find it difficult to reconcile the major differences between life in Cercadillo and life for the wealthy of Santo Domingo. Personal experience and assumptions about life's necessities also come into question during first visits to Cercadillo. There is little economic opportunity for the villagers. The men often leave the village before daybreak seeking day labor jobs. The work the women can find outside the village usually involves carrying heavy loads on their heads for hours, leaving them with little money and great pain at the end of the day. Within the last five years, several of the women have participated in a crafting co-op that affords them the opportunity to learn new skills and market and sell products they make.
Ina York, project facilitator, has often said that although their government seems to have forgotten the people of Cercadillo, God never has. And to that end, The Cercadillo Project was born, to help meet basic needs while sharing Jesus' love.
FAQs
1. How old do you have to be to participate?
You must be 18 years old to participate on your own. 13 & up must be accompanied by a parent.
2. What's the application process like?
Once you are interested in joining us for the trip (let us know in the form below!), we will provide you with an application form that will ask about your experience with mission trips, your relationship with Jesus, and skills you have that may be useful for the time spent in the D.R. You will also receive a D.R. Trip Handbook with more information about the vision and mission of Cercadillo, background on Dominican culture, rules and policies.
3. Where do you stay in the Dominican Republic?
Often we stay in the TIME Ministries house a few blocks away from Ina York's home in Villa Mella, and we bus to the village each day.
4. What does a typical day look like serving in Cercadillo?
During the week, we conduct a Vacation Bible School camp in Cercadillo. We normally begin our days around 7 a.m. with breakfast and a devotional time together. We then leave to the village to begin setup for camp at 9 a.m. We do two sessions of camp in the morning and in the afternoon, with a break for lunch. After camp, we clean up and drive back to our housing where we rest, have a Bible study and reflect on the day, eat dinner, and prep for the next day.
5. What is the cost of the trip? Could I fundraise?
The cost of the trip will be $1,300-$1,400, and we discuss ways we can individually and collectively raise funds to support the trip during our initial meetings.
6. What should I bring/wear on the trip?
You will receive a handbook of all pre-trip information with tips on packing, dress code and more so that you will feel well prepared for the trip.
7. Where can I find more information?
You can learn more about The Cercadillo Project on their website. If you have specific questions, you can get in touch with the leaders, Emily Knox and Kevin Bellino by filling out the form below.
Trip Leaders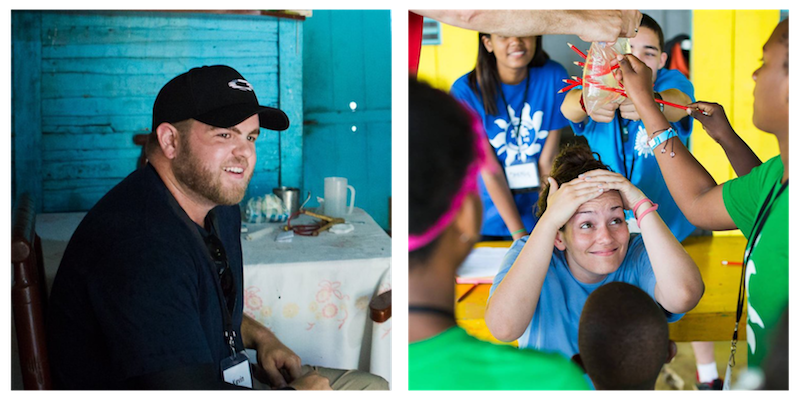 Interest Meeting Sign up