Bike Drive for Every Orphan's Hope
Saturday, September 30 • 9AM-12pM
Collecting new & used bikes (with a particular need for adult bikes) to benefit orphans in Zambia 🚲
Rain or shine! (We provide a tent-covering for drop-offs of bikes in case of rain.)
Donate any bike in any condition to benefit these children and connect our community to theirs. Bikes For Orphans will directly benefit the Narrow Road Bike Shop in Zambia, Africa. Our community will come together with new or used bicycles and pass them along to volunteers at Gateway on Saturday, September 30. Each donation is given the opportunity to receive a picture of their bike with its new owner in Zambia, Africa!
GET INVOLVED
1) Become a Neighborhood Ambassador
Spread the word in your neighborhood by passing out flyers to your neighbors/businesses about the event. Optional: Be a collection point for bike donations. Download the Neighborhood Flyer Template here. [Log into your Google Account, and go to "File" > "Make a Copy"]
2) Volunteer on September 30
We need volunteers to help process bikes for shipping, assist with hospitality, and ensure the bike drive is run smoothly. Sign up for a shift to volunteer on September 30.
HOW TO DONATE
Bikes and bike parts of any kind or condition are accepted! The biggest need is adult bikes.
Donate a Bike BEFORE September 30: Drop off bikes/bike parts to the right side of Gateway's building in the coned area or email us at bikedrive@gatewaychurch.org if you'd like us to arrange a pick up for your bike.
Donate a Bike ON September 30: Drop off bikes at Gateway between 9AM-12PM.
Donate Financially: Contribute online to cover the costs of shipping the bikes at bikesfororphans.org.
We hope you can join us in connecting our community with the Zambia community! Together, let's change the world two wheels at a time.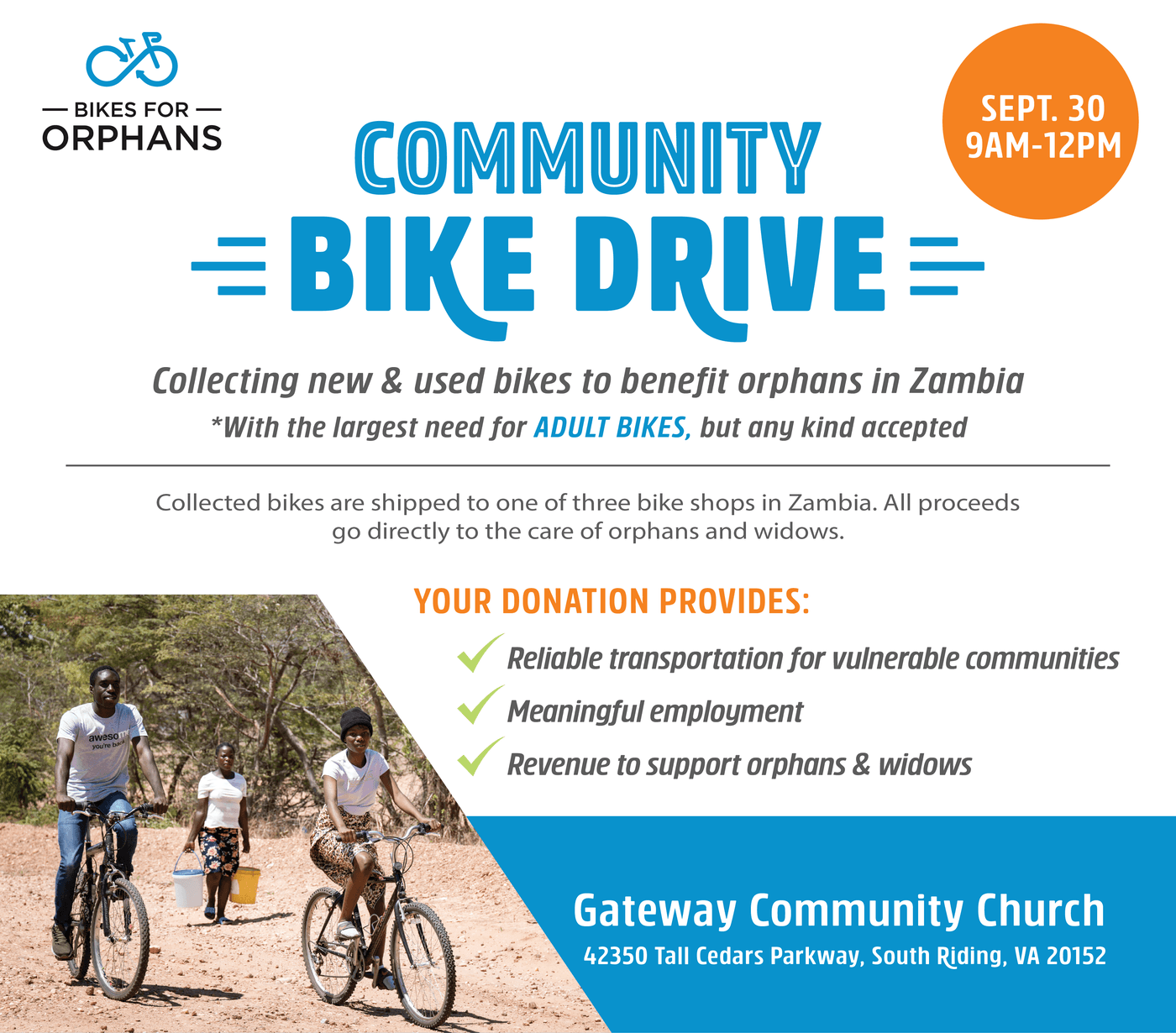 About the Bike Drive
Gateway is hosting a community bike drive on September 30 to benefit Bikes for Orphans and Every Orphans Hope, an organization that helps orphans and widows in Zambia form new families and homes. Between now and September 30, our goal is to collect 400 bikes from the community. These bikes help transform lives, businesses, and communities. In Zambia, access to quality bikes is very limited, so the bike shops rely on bike drives such as ours. We invite you to help connect our community to theirs by getting involved!
Bikes for Orphans is a business-as-mission initiative under Every Orphan's Hope. Each year, Bikes for Orphans partners with multiple churches and organizations to collect bikes and ship them to one of three Narrow Road Bike Shops in Zambia. These sales and repair shops provide sustainable income to support ministry operations while teaching students valuable business skills.
100% of the profit from the shops goes directly to support the orphans and widows in the care of Every Orphan's Hope.